27 Mar

On A Budget So Far Below $100,000 Dollars, It's Embarrassing

Re-blogged from LBB Online: 

At AWE 2018, MCA's Pat Murphy finds out how Cult are producing award-winning ads for incredible budgets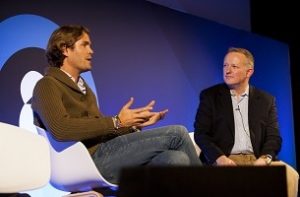 What Constantin Bjerke, Founder of Cult Global and Crane.tv, self-confesses is some 'naivety' towards the advertising world, is what the industry is recognising as incredibly fresh thinking – an approach built for the modern client. Having picked up five Lions at their Cannes debut, this agency is rising to become a serious contender in the business and this 'naivety' is exactly what's driving it.
Sitting down at Advertising Week Europe, Production Consultant and Founder of Murphy Cobb Associates, Pat Murphy, grills the production company and branded entertainment agency owner on what really sets him apart and why heavyweight advertisers like Burger King, Absolut, BMW and more are flocking to their doors.
Here we share the striking highlights of their discussion from 'Budgets Are Shrinking but It Doesn't Mean You Can't Produce Award-Winning Ads':
13:13 PM> When you get involved in these projects, what is your process?
CB> We come to this from what we like to think of as a user experience approach. As publishers [Crane.tv] we start with the 'who' – 'who are we trying to get to do what and why should they care?'
We try to think about people and when, as advertisers [Cult], we don't bother them. For example, when I'm watching a football match, I'm probably not interested in being interrupted by a car commercial. But maybe when I'm on my commute, or when I'm sat at home looking for inspiration, that might be different. Discovering media habits is essentially what we're looking for. Once we figure that out, we then look at 'how can I create the right to initiate a conversation with this person?' – Is this through a YouTube video, is that through an experience, is that through inviting them to something, is that a TVC? But it never starts with, 'we have to make a television commercial'.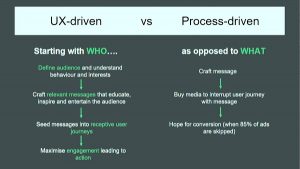 Slide shown highlighting Crane.tv and Cult's 'user experience-driven' approach to advertising 
25:40 PM> I have to make the assumption you are not a member of any industry bodies, the AICP or the APA?
CB> Yes and then pricing it fairly and creating good value for our clients
PM> Do you think not being a member of those bodies helps you to be more flexible and nimble – particularly price-wise? 
CB> I'm not sure I can answer that question, because I don't know what their rules and regulations are.
26:45 PM> Let's talk about awards because when I first spoke to you a number months ago and I said wow, how great is it to win five Lions at Cannes, you seemed to have no idea of the significance of that?
CB> I still don't! We just do what we do and what we are passionate about. One thing we have learnt, is the significance of awards. Awards are the currency this industry deals in. Being able to tell people we won five Lions at Cannes makes that initial conversation a bit easier. Our conversion rate has gone up since winning them. I guess it's a seal of trust.
PM> When you start a project, you don't think about awards at the beginning at all? 
CB> No
PM> Awards are just a nice by-product of the way you work?
CB> Yeah. Don't get me wrong, everyone loves being recognised publicly for their work and it helps build trust.
At the end of the day you're only ever as good as your last project.
CB> This entire film was made in five days
PM> On a budget of…?
CB> On a budget that was so far below $100,000 dollars, it's embarrassing! You can do great work with a small budget – and that won an award as well. If you have a great team and a great idea you can pull something together in a short amount of time. You don't necessarily need a huge budget.
35:16 PM> What is your award-winning formula for creating great advertising on a budget?
CB> It boils down to five things. Insight + Simplicity + Trust + Instinct + Craft
Crane.tv and Cult's 'formula'