28 Apr

Five ways to improve your mobile advertising strategy

This year the number of mobile device users has become greater than the number of desktop users. Such news is threatening to advertisers, as The Monetate eCommerce Quarterly highlights that marketers on average can expect conversion rates of 0.92% on mobile devices, which is significantly lower than tablets (2.86%) and desktops (3.41%). However, by combatting some common mistakes, marketers can enrich the potential of their mobile advertising strategies.

Do not underestimate the power of data

Brands need to be attentive towards data, and make decisions based on what they find. By using datasets and programmatic tools, brands can gain consumer insight and adapt their messaging accordingly. Advertisers will find that they benefit from a sales focus. By integrating third party data, brands can see whether consumers act on adverts and if they lead to conversions. Kathleen Schneider mentions in Adverting Week that intelligent data integration enables brands to 'optimise campaigns and provide tangible results.' According to research from Criteo, mobile now accounts for more than 30% of ecommerce transactions globally. Although these transactions are fewer than desktop and tablet, mobile transactions are on the rise, and marketers ignore this at their own peril.

Place your ads on the appropriate medium

Ensure that your mobile ad is placed on the right medium. Displaying your ad in the wrong environment devalues its message and targets a disconnected audience. Mobile ads should be placed in an environment that complements the look and message of the content.

Optimise SEO

A mobile search engine results page is considerably different to that of a desktop or tablet. As you can see from Wordstream's chart below, mobile ads are less likely to be shown, even in position one of a SERP. It is crucial to optimise your SEO and appear in positions one or two, as users are far less likely to scroll to the bottom of a results page on a mobile.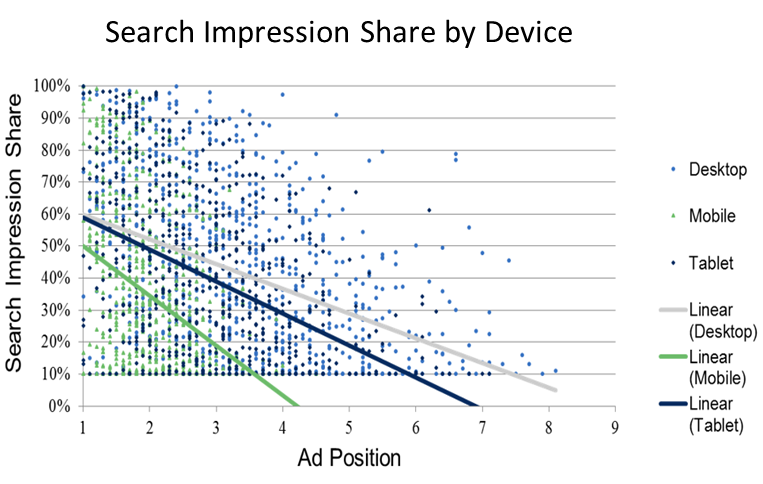 Ensure your landing page is informative and engaging
A company with an up to date landing page that shares valuable content with consumers will find enhanced engagement. According to Wordstream, two thirds of consumers will immediately leave your page and return to the SERP if a website is overly simplistic or devoid of information; examples of these are provided below. Now that the average download speed of a mobile device has rapidly increased and continues to do so, it is time to adapt your site to the ever evolving smartphone interfaces. Brands should take advantage of responsive web design; a technique that enables you to build websites that work on different screen resolutions using the same code. Brands offering the best cross-device experiences will triumph in today's digital era.
Understand that apps dominate smartphone use
The best way for marketers to communicate through mobile is with apps. In the Harvard Business Review, Sunil Gupta mentions that apps 'trump traditional ads in part because consumers don't perceive them as advertising—they value them for their functionality and thus don't find them intrusive.' Users spend, on average, 82% of their mobile minutes with apps and just 18% with web browsers. They download about 40 apps to their phones and regularly use about 15. For marketers, communicating through apps has demonstrated to be more cost efficient than the use of traditional ads. Furthermore, apps also open up the possibility of new revenue streams.
There is no concrete formula for ensuring mobile advertising success; however, these measures can help point brands in the right direction. By using data and algorithms to reach large audiences in a cost efficient manner, you will make better informed decisions, facilitating a positive impact on your conversion rates.