16 Apr

How to use hashtags for your Twitter account

The Huffington Post recently released an infographic that explains the exponential power of Twitter hashtags for businesses, leading to conversions and enhanced brand awareness.

Twitter is the social network that made hashtags famous. A relevant and coherent hashtag is a valuable asset to an advertising campaign, as it can increase the reach of a company's marketing endeavours beyond a page's followers to anyone that is interested in the phrase that is being used. However, if a company wants this to lead to positive engagement, it is important to use the right hashtags and the right number of them.

Brands need to ensure that they do not over-tag a single Tweet. Twitter recommends a maximum of two hashtags per Tweet. Too many hashtags can tarnish your brand's social media reputation, as users perceive these Tweets to be irritable. Keven Lee mentions in Bufferapp that Tweets with one or two hashtags have 21% higher engagement than those with three or more. Each additional hashtag devalues the message of the previous one and can cause long-lasting harm to a brand's perceived identity.
Companies should choose just one hashtag to speak for a brand, this helps to enhance memorability and consumer awareness. Tropicana has recently started using the hashtag #TropicanaTranslates. These are comical Tweets that highlight the honest truth behind common terminology and people's intentions. By doing this, Tropicana is able to align its brand name in accordance with it is humorous personality. This helps Tropicana achieve a favourable opinion amongst consumers by not pushing a hard sell approach and conveying content that the brand's target market can relate to.
A TweetChat is a live Q&A session that can be organised around a single hashtag. #DadChat is a TweetChat set up by Bruce Sallan and discusses topics in relation to fatherhood and parenting. "Every week we get 100-200 mums and dads participating in the chat, and we generate about 1200 tweets in that hour that we're together," Sallan says. Big brands have recognised this and companies such as Ford Motor Company have sponsored Sallan's weekly updates. Sallan chose to focus on the topic of car safety for children during the time of Ford's sponsorship, creating a relevant alliance between the brand and TweetChat. Online users were asked to explore Ford's website to find information on car safety and were encouraged by Sallan to Tweet about what they found.
In SocialBro, Rachel Quin mentions that hashtags can be used as a form of currency in exchange for increasing brand awareness. The Marc Jacobs #MJDaisyChain campaign gave consumers a free deluxe sample of their Daisy Fragrance in return for tweeting the given hashtag and visiting the London pop-up shop. The campaign created a buzz for the brand's new fragrance and drove a high volume of consumers to the pop-up store. Furthermore, the brand achieved its highest level of organic reach to date.
It is important that companies use a hashtag that is easy to remember and clear. Although acronyms and long-worded phrases might be more specific and combat the likelihood of others using your hashtag, they can also create confusion. Twitter's cheat sheet for hashtags uses X Factor as an example of this. The producers of the US show wanted to differentiate it from the UK version, so used the hashtag #XFUSA rather than #XFactor. However, fans ended up using the latter hashtag five times more than the former. Producers decided to correct this problem by using #XFactor for the show's second season, and saw an abrupt surge in the Twitter conversation. This illustrates that it is important for brands to listen to their fans and adapt their hashtag strategy when necessary.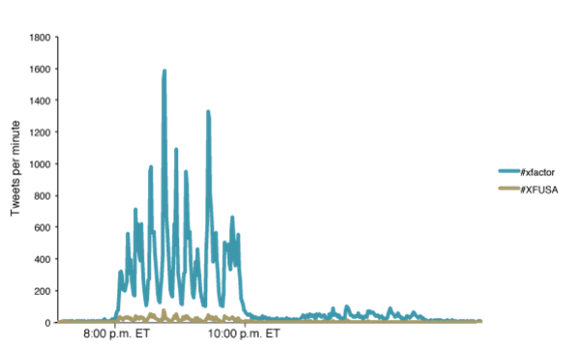 Using hashtags enables you to reach a wide audience interested in the content that you are sharing. It is essential for a brand to recognise the importance of using these in a credible manner, which will engage consumers rather than annoy them. Brands looking to build relationships with consumers on Twitter should use memorable hashtags and keep them limited.