27 Apr

Patrick Murphy harks back to his radio days with this classy playlist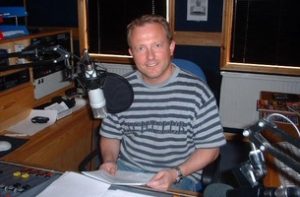 Before I came into the advertising industry it was my obsession to be in radio, so I am chuffed that Radio LBB has given me the luxury of sharing some stories and some tunes in my own very self indulgent way without being limited to a playlist.
All the while I was building my career in various ad agencies, I had this parallel radio gig going. My early days started when I was introduced to someone at BBC Radio Brighton in the '80s via an old boy from my school. I was just looking through all my old radio and advertising applications, I have hundreds so getting this door opener was incredibly exciting for me. (See the letter below from 1981). BBC Radio Brighton was using the rotary faders at that time just like I'd seen on the old pirate ships. I started doing vox pops, answering phones for presenters and getting to know the ropes. I graduated to presenting and producing at many other stations including Chiltern, Ocean Sound, Swan FM, Thames Radio and Radio Jackie. Way more fun than should be allowed for any one individual. I also often combined both passions by being the official ad expert for stations such as LBC and BBC London.
I met many of my radio heroes during my various stints at stations. None of them know how much I thought of them, as it was totally uncool to let on. However some of them had a profound effect on my musical tastes too. So now I am going to mention some of those great music champions that changed my tastes, here we go: Thanks must go to Tony Blackburn, Peter Young, Gilles Peterson, Mike Chadwick, John Peel, Steve Wright, Kenny Everett, Fluff Freeman, Roger Day plus many others who shaped my current music collection. It's also pretty uncool to let on that I was a mad collector of radio jingles. Nowadays they're easy to lay your hands on but in the 'old days', it was all about dubbing them off from radio station reference reels or carts. We all wanted a Jam jingle from Dallas (jingles.com). Wow, the collection was huge and I was getting requests from strange quarters. I even had one from John Hegarty when I was at JWT asking for some LA airchecks. Radio jingle collecting is an odd obsession and there are plenty of 'anoraks' out there still doing this. I ended up having kids and it went by the wayside.
Why all this preamble? Well, this is all leading up to the theme of Radio LBB this week which I have called 'Groovin' Radio Hits'. Those songs that I as a DJ and a great radio listener think sound brilliant on the radio (particularly with some pumping compression).
The Way It Is – Bruce Hornsby (Played this tune to my McDonald's Marketing Director on his way down the A3 when I was at Thames Radio and at Leo Burnett)
Incognito – Always There featuring Jocelyn Brown (One of the best live bands around & still going after over 30 years)
Boz Scaggs – Lowdown (loved the jazziness of all his music and sounds great on air)
Paul Hardcastle – Ventura Highway (heard the America version of this so often on my travels and listening to stations in the US. This version is great and classy)
Plus a great collection of other classy tunes, I hope you like them.