14 Apr

The impact and influence of video content in the consumer journey

A survey published by Digital Sherpa clearly illustrates video's role in fast-paced conversions. It has become so much more than just entertainment for the mobile device-loving masses.

According to Digital Sherpa, video content is the most effective media for engaging consumers online. Furthermore, a forecast from Cisco predicts that by 2017, video will make up 69% of all consumer internet traffic. A recent Volkswagen campaign consisted of a trio of videos, and attracted 155 million views. This demonstrates how marketers can take advantage of the 'shareability' of video content. However, of course consumers see time as a valuable resource, and when researching a product or service, they want a clear and concise explanation of a brand's offerings. A marketer's message needs to be delivered succinctly as 60 % of consumers will stop watching a video after 2 minutes. Many brands have taken this into account, by creating short, looping videos on platforms such as Vine. For example, Burberry used Vine to stream its entire Burberry Prorsum Menswear S/S14 runway show in just 6 seconds (see https://vine.co/v/hBP0MggOb5j). This was cross-promoted on the brand's Twitter page, creating a huge amount of reach and user engagement. Jim de Zoete, a writer for Marketing Magazine, believes that marketers need to impress consumers in the first three seconds of a campaign as video content is 'nothing without a strong beginning.' With online visitors being 64% more likely to buy a product on an online retail site after watching a video, the immediate impact of these messages cannot be ignored.

Web pages displaying video content are 50 times more likely to appear on the first page of search engine results. Digital video consumption is highest amongst millennials so marketers need to ensure that they target millennials at the right place, at the right time, and with the right message (new audience, old approach). Beauty brands such as Rimmel have capitalised on this, embedding YouTube tutorials onto their main site, helping to create social buzz. These educational videos are helpful to the brand's 16-24 year old target market, without overbearingly pushing products onto them. Such videos also lead to conversion, with 12% of viewers purchasing the specific product or service featured in the advertisement.

Brands such as L'Oréal have taken into account that 75% of users visit the marketer's website after viewing a video, and have therefore embedded such content on a variety of platforms. L'Oréal utilises celebrity brand ambassadors to deliver their marketing messages on Instagram. These ambassadors have access to a huge reach of consumers, and L'Oréal inserts hashtags in the video captions to encourage further user engagement through competitions. Consumers are then able to search these hashtags and share videos and pictures related to L'Oréal products with one another. These videos can increase consumer understanding of a product by 74%.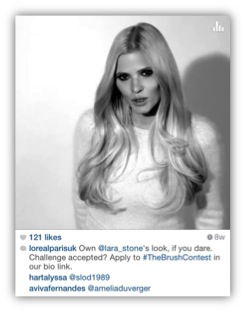 Video content can be incorporated into email marketing campaigns and triple click-through rates. Including social buttons at the end of a video encourages users to share the content. Litmus, an email analytics company, has used a different approach to email marketing. The company takes stills from videos on the company site and sends them in emails to users with a brief caption. When consumers click on the 'play' button, they are diverted to the video playing on the company's webpage, driving more traffic to the site. By doing this, Litmus is able to avoid the concerns associated with the functionality of a video embedded in an email, whilst still providing consumers with engaging visual content.
With 80% of online visitors choosing to watch a video over reading content in its entirety, this form of communication is now seen as the future of content marketing. In a cluttered media environment, marketers can use this communication tool to harness the attention of consumers in a variety of channels by sharing videos that are visually appealing and easy to digest. Video has become 'the quickest way to get your message in front of as many eyes as possible,' says John Huber in The Tennessean. However, marketers need to ensure that they firmly establish their objectives and KPIs, to facilitate optimisation and better results.