07 Mar

Programmatic Ad Update

Last month, AdRoll published a report showing that the majority of marketers say programmatic ads provide a greater return on investment than traditional media.

45% of the 220 UK senior marketers surveyed are increasing their programmatic ad budgets in 2016. 40% of respondents are buying programmatically on mobile ads, 29% on video ads and 27% are buying TV ads programmatically.

Of course, programmatic ads need to integrate into the consumer journey, to be most effective.

Tom Lancaster, Senior Digital Creative Manager at Topman believes that the Topman site is just as important as Topman's programmatic ad creative, explaining that personalised ads need to land consumers on sites that match the ad's proposition.

Many marketers and far more consumers agree with Bob Wootton, Director of Media & Advertising at ISBA, that poorly applied retargeting becomes increasingly irritating.

Which brings us to the hot topic of the moment, ad blocking.  Of course, load speeds have driven droves of consumers who access content with their mobile devices, to block ads.

However, last week, IAB UK's CEO, Guy Phillipson explained that the IAB believes that "an ad funded internet is essential for providing revenue to publishers so they can continue to make their content, services and applications widely available at little, or no cost."

Of course, ad blocking undermines the ad funded internet, and it could lead to consumers being required to pay for content they current enjoy for free.

While we see plenty of articles on the rapid increase in ad blocking behaviour – the number of British adults using ad blockers has risen from 18% to 22% – this chart shows when and why consumers are willing to switch off ad blockers, to access content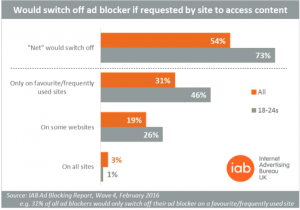 In the US, last month, the Association of National Advertisers and Forrester conducted a survey that included responses from 128 ANA members.
ANA and Forrester discovered that some marketers are setting up in-house ad-buying capabilities because they're concerned about fraud and data transparency. 70% of respondents are concerned about higher bot fraud in programmatic buys and 64% want greater transparency in programmatic supply chain costs.
"While programmatic buying indeed offers benefits, it suffers from a complex and non-transparent supply chain," said Bob Liodice, president-CEO of the ANA. "And that is wasteful. The industry — and marketers in particular — would greatly benefit from a rethink of the entire digital supply chain."
Read more at:
Campaign http://www.campaignlive.co.uk/article/programmatic-ads-provide-greater-roi-traditional-media-claims-survey/1385954#4ETirPv5Q5hpASof.99
IAB http://www.iabuk.net/about/press/archive/iab-uk-reveals-latest-ad-blocking-behaviour
eConsultancy https://econsultancy.com/blog/67599-31-opinions-on-the-future-of-programmatic-advertising/
AdAge http://adage.com/article/agency-news/marketers-boosting-house-ad-buying-capabilities-ana-finds/302936/