26 Aug

Programmatic TV is set to soar

We hear so many different points of view on best practice creation and production of programmatic ads.  But programmatic isn't just working in digital channels; advertisers are increasingly testing messages across all screen platforms, as consumers increasingly engage with programming and video on more than one screen at a time.

Programmatic TV is very different from digital programmatic in that its total addressable market is almost twice the size of the digital one.

Children growing up with Smart TVs see a TV as just a big computer screen – after all, they are watching TV and streaming video on all screens, already.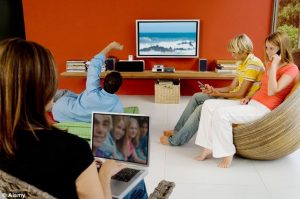 And now, advertisers can deliver messages to individual viewers, tailored to the mobile device or Smart TV they're viewing on.  Advertisers can also deliver sequential messages, specifically increasing awareness, preference and purchase conversions, across mobile devices – a viewer can be introduced to a brand, or a new product, on their TV and converted to sale through rich video on their tablet.
Programmatic TV gives brands and their agencies better targeting opportunities, fresh inventory and an integrated interface for simpler workflow.  Programmatic TV overlays advanced audience data onto Kantar ratings, massively increasing targeting capabilities, making inventories more valuable and the same technique shows inventory in smaller increments than the traditional 30 minute segments, increasing inventory volume sold.
The International Data Corporation (IDC) have just published a white paper (August 2015), titled "Programmatic TV Advertising: Bigger Than RTB by 2019" in which it predicts rapid growth of programmatic TV advertising technology.
The full white paper can be downloaded here.
Key points include their prediction that by 2019, in the US, programmatic TV spend will be bigger than digital RTB, and the growth of programmatic TV spend will be so fast that spending on traditional TV advertising will begin to significantly decline.  (For a contrasting POV on that, see this Bloomberg video of BTIG's Richard Greefield discussing the down turn in TV ads as spend migrates to mobile devices and streaming media)
Sources:
Adweek: http://www.adweek.com/brandshare/3-ways-programmatic-tv-addresses-new-brand-viewer-dynamic-166435
The Trade Desk: http://pages.thetradedesk.com/rs/527-INM-364/images/TheTradeDesk_IDC_ProgrammaticTVBiggerThanRTBBy2019_0821.pdf